Utilacart® Fishing Cart – Handmade Cart Custom Designed For Fishing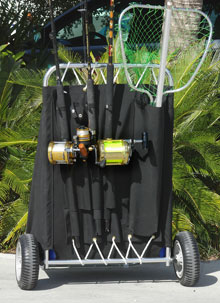 Recreation is a big part of our lives, and even though it's centered around fun, it still demands a great deal of planning. Fishing and boating are not exceptions.
As sportsmen and women ourselves, we spent a lot of time backtracking while we carried clunky, unwieldy and oddly-shaped gear to and from our car or truck and our destination.
We take our leisure time seriously, so in the spirit of relaxation, we got to thinking and we devised the Utilacart fishing cart.
The fishing cart is designed with the outdoors enthusiast in mind.  All of our carts are 100% handmade by a finished carpenter with years of experience, custom built for your needs in the good ol' U.S.A.
Please check out what so many of our past customers have said about how Utilacart made their life easier.
We're all familiar with exactly how annoying carrying all that equipment can be. Simply put, the Utilacart fishing cart ends the annoyance.
It's a hand cart that is ideal for consolidating your rods and reels, tackle box and any other fishing gear you might have…all in one place, all for the purpose of one convenient, work-free trip.
So before you head out to land those fish, try tackling your equipment transport problem first. You will save time…and a big headache.
The Utilacart Fishing Cart Carries:
Rods and reels
Coolers
Tackle box
Hot plates
Utilacart Fishing Cart Rolls Effortlessly Across Most Terrain
The Utilacart fishing cart is made with durable, large wheels perfect for navigating the road (or trail) less traveled and canvas as rugged as the outdoors. Combining the ease of transport traditional utility carts offer with the space-saving convenience of a folding canvas chair, the Utilacart is the revolutionary way to move multiple cumbersome items quickly and easily.
The Utilacart fishing cart also folds up for easy storage, weighs only 12 lbs and fits into the trunk of a car without thinking twice.
Lightweight; Strong; Durable
Portable – fits easily in most cars. 40″H x 30.5″W x 10″H folded
Rolls easily over most terrain
One year warranty
Affordable – starting at $149.95 (plus S&H)
The fishing cart back panel features four fishing rod holders and one long pocket.
The 22 ½"H x 6″W x 3″D long pocket accommodates an umbrella and pole holders
Four individual 11″H x 1½" diameter snap straps hold and secure four fishing poles or a mixture of poles and long handled nets
Custom Embroidery is Available
Make your fishing cart as unique as you are! Utilacart looks fantastic with custom embroidery that we do right here on site after we hand-make your cart.